Zuykov and partners is ready to provide you services for the registration and filing of an application for registration of a trademark and correspond with Rospatent until the receipt of a certificate in Russia for a trademark.
Accelerated registration of a trademark
Usually, registration can take from 10 to 15 months, in some cases, it is required to speed up this process, then we can make additional efforts and register in 2-3 months.
Logo registration cost calculator
Terms of registration of a trademark
Registration may take from 12 to 14 months, in some cases, it is required to speed up this process, then we can make additional efforts.
National application in other countries for registration of a trademark
You can obtain legal protection for your trademark by filing a national application directly with the patent office of a specific country.
Russia
61 110 ₽
Ukraine
600 $
Belarus
1 475 $
Kazakhstan
1 025 $
USA
2 445 $
China
1 645 $
Europe
2 450 €
All your questions will answer Trademark attorney
Olga Plyasunova
Ask a question
Price for our services
The calculated cost of services and fees is indicative, is for informational purposes and is not a public offer.
Registration of the application will take a few minutes. We will call you back and answer all your questions, agree on the terms and cost of services.
You can contact us with a question or order a service «Acceleration of a Trademark Registration»
Example of the received document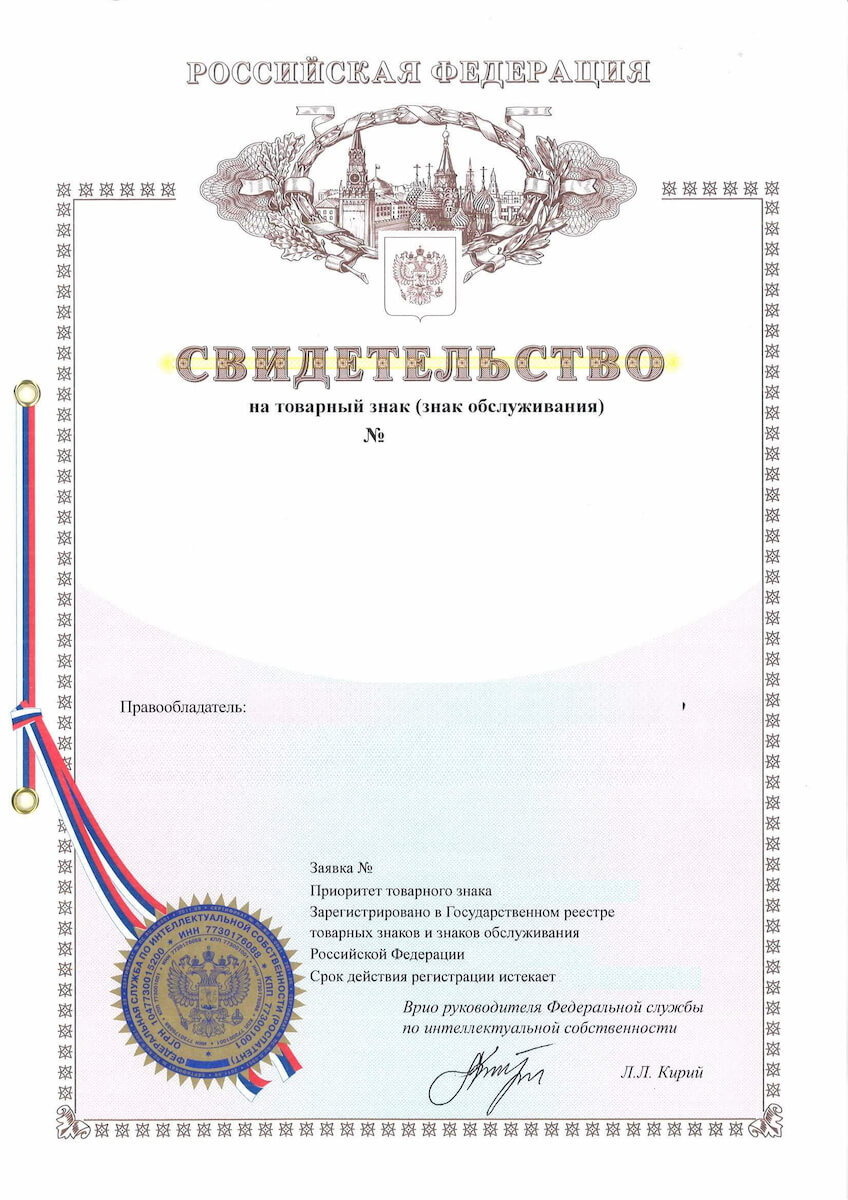 Clients
Over 7000 clients entrust us with the protection of their intellectual property rights and brands.
After the Patent Office receives the application, the trademark and documents are examined. In the usual regime, such an examination takes 10-15 months. At the request of the client, Zuykov and Partners lawyers can accelerate the registration of the designation. The period for consideration of the received application is reduced due to the examination in a shorter time. To start accelerated registration, the owner of the trademark applies to the Patent Office with a petition and a document confirming the payment of the state fee. Reducing the examination period allows you to register a trademark and issue a certificate in 2-3 months.
Articles
We share our expertise in the field of intellectual property, our specialists prepare excellent materials on the topic of trademarks, patents, copyright, defense and litigation.
News
We constantly exchange experience with our foreign colleagues, conduct dozens of cases at the same time, and in five years we have more than 500 cases with a positive outcome.
Still have questions?
Ask your question and get an answer from a specialist within 15 minutes as part of a free consultation.