Logo, slogan, trademark or mark are various names of the same intellectual property object, which is officially named a trademark.
We are ready to assist you with the preparation and filing of the application for the registration of your trademark. We will take care of the communication with Rospatent, the Federal Services for Intellectual Property, until a trademark certificate is issued.
Each trademark is registered in relation to particular goods and classes, divided into classes. Today there are 45 such classes (34 for goods and 11 for services). They are defined by the International Classification of Goods and Services for the purposes of the registration of marks.
The official fee for filling of an application depends on the amount of classes in which the trademark will be registered.
The price depends on additional options
We will make a search of similar signs, both already registered and applications submitted for registration, as well as review your sign for compliance with legal requirements. This greatly increases (up to 95%) the probability that your mark will be registered.
Logo registration cost calculator
Terms of registration of a trademark
Registration may take from 10 to 12 months, in some cases, it is required to speed up this process, then we can make additional efforts.
National application in other countries for registration of a trademark
You can obtain legal protection for your trademark by filing a national application directly with the patent office of a specific country.
Russia
61 110 ₽

Ukraine
600 $

Belarus
1 475 $

Kazakhstan
1 025 $

USA
2 445 $

China
1 645 $

Europe
2 450 €
United Arab Emirates
3 500 $

Saudi Arabia
4 545 $
Price for our services
The calculated cost of services and fees is indicative, is for informational purposes and is not a public offer.
Registration of the application will take a few minutes. We will call you back and answer all your questions, agree on the terms and cost of services.
You can contact us with a question or order a service «Trademark Registration in Russia»
Example of the received document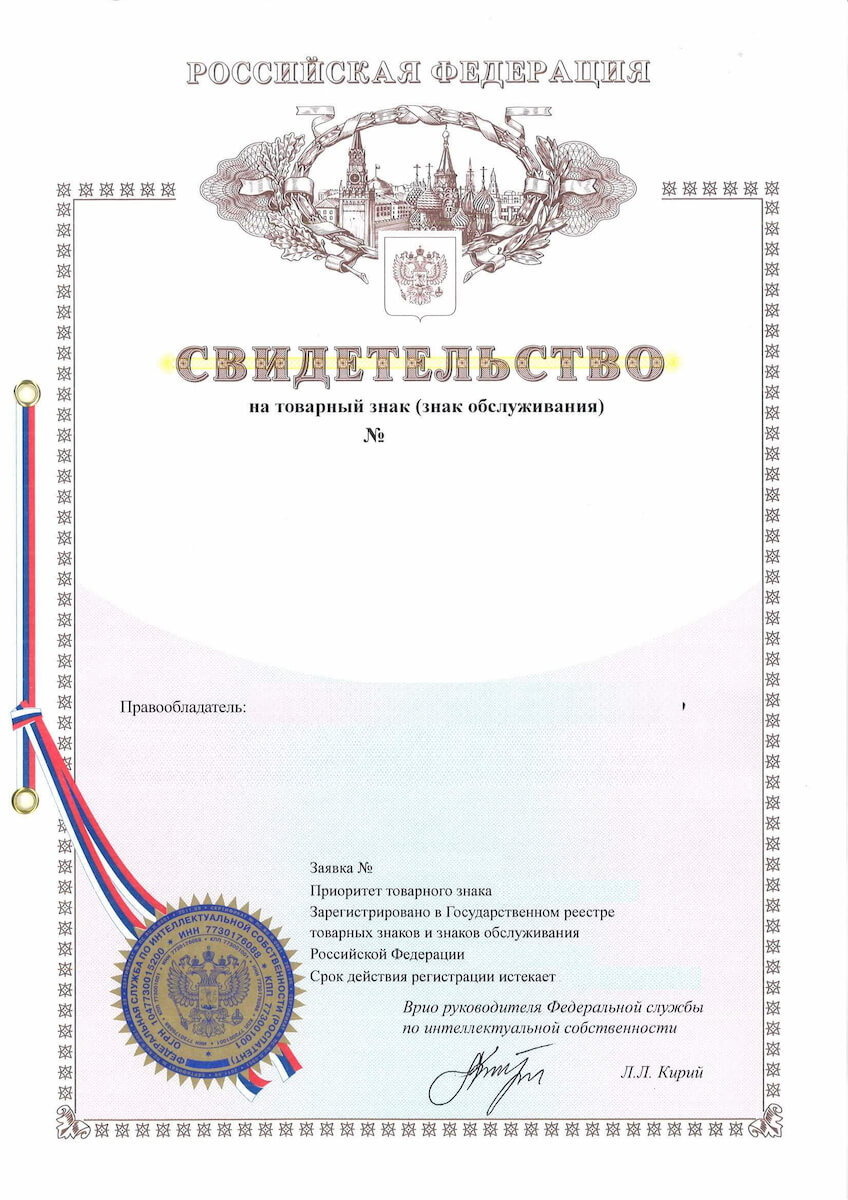 Over 7000 clients entrust us with the protection of their intellectual property rights and brands.
After the release of products into civil circulation and entering domestic commerce, in order to protect against illegal use and strengthen the position, it is important for an entrepreneur to register a designation in the form of a trademark. For this, the owner of the means of individualization submits documents to Rospatent and pays a state fee. The specialists of the Patent Office carry out two stages of examination and decide whether to grant protection to the trademark or not. For a positive result, the declared designation must comply with the requirements described in the Civil Code. Legal protection of a trademark lasts 10 years and the right holder is authorized to renew the certificate for the same period any number of times.
Articles
We share our expertise in the field of intellectual property, our specialists prepare excellent materials on the topic of trademarks, patents, copyright, defense and litigation.
News
We constantly exchange experience with our foreign colleagues, conduct dozens of cases at the same time, and in five years we have more than 500 cases with a positive outcome.
Still have questions?
Ask your question and get an answer from a specialist within 15 minutes as part of a free consultation.